Antoni Gaudí i Cornet was a Catalan Spanish architect. He has become internationally known as one the greatest and prodigious experts in his field, and as one of the top exponents of modernism. Gaudí was born on June 25 1852, his family were boilermakers, that allowed him to acquire a special skill for working with space and volume as he helped around in the family workshop with this father and grandfather. His interest and talent for designing spaces and transforming materials grew and improved until he turned into a verified genius for creations in three dimensions. His works have a greatly individualized and unique style. Most of them are located in Barcelona, including his main masterpiece, la Sagrada Família.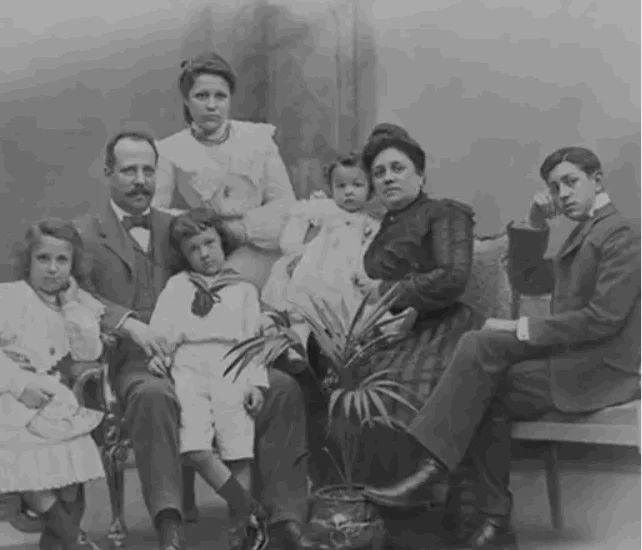 From an early age Gaudí showed interest in architecture and went to Barcelona to study around 1870, which was the most modern city in Spain at the time, and he also worked several jobs to be able to pay for his academic career. Although his studies were interrupted by military service, Gaudí was able to graduate from the Provincial School of Architecture in 1878. 
Gaudi's Professional Career 
The work of Gaudí is usually classified as modernista (also known as Catalan modernism), and it belongs to this movement because of the eagerness to renovate without breaking the tradition, the quest for modernity, the ornamental sense applied to works, and the multidisciplinary character of its undertaking, where a central role is played by craftsmanship. Gaudí added a touch of the baroque, adopting technical advances and keeps using traditional architectural language. Combined with his muse Nature, and the original touch of his works, this amalgam gives his works their own personal and unique role in the history of architecture. 
Gaudí began his professional career while he was still studying. To be able to pay for his studies he worked as a draughtsman for some of the most recognized Barcelona architects of the time, like Joan Martorell, Josep Fotserèm Francisco de Paula Villar y Lozano, Leandre Serrallach, and Emili Sala Cortés. 
When he graduated, Gaudí worked in the beginning following the artistic vein of his Victorian predecessors, but soon enough he developed his own style, doing compositions in his works with juxtapositions of geometric masses and also animating the surfaces with patterned stone or brick, bright ceramic tiles and reptilian or floral metalwork. 
His first project was a set of lampposts for the Plaça Reial, the Girossi newsstands and the Mataró cooperative, the latter was his first important work.
Gaudí's Early Style Projects
Gaudí had previously attracted the attention of the entrepreneur Eusebi Güell at the Paris World Exhibition in 1878; and he was so impressed that he wanted to meet Gaudí, which meant the beginning of a professional collaboration and long friendship. 
His first task for Gaudí was the design of the furniture for the pantheon chapel of the Palacio de Sobrellano in Comillas, which was being built by Joan Martorell, on of Gaudí's teachers. Gaudí designed a chair, a bench and a prayer stool; the chair was upholstered with velvet, finished with two eagles and the Marqui's coat of arms; the bench has a motif of a dragon; and the prayer stool is decorated with plants. Work that would take him to design Park Güell and other projects. 
Gaudí's Chain Models
Gaudí did not enjoy drawing, in addition to his use of models, instead of using the traditional plans, he designed a complex set of hanging chains that he attached to the ceiling to view and figure out the design for several of his religious commissions, even la Sagrada Família itself. 
He dedicated a good part of ten years of his life developing this "hanging chain" model, with the use of weights and strings. The arched shapes that resulted of the experiment were what Gaudí was looking for as an architectural shape, when turned upside down. This would be essential to be able to work on his design for la Sagrada Família.
Antoni Gaudí designed and worked on a fair number of projects during his lifetime, most of them located in Barcelona. His unique style was clearly impregnated on his work and life. He went through several style periods through his career. 
El Capricho 
It is a villa located in Comillas, Cantabria, Spain, and it was designed by Gaudí. It was constructed in 1883-85 to be used on Summer by a wealthy client, Máximo Díaz de Quijano. Unfortunately, Díaz passed away a year before the house was finished. This villa belongs to Gaudí's orientalist period. 
Episcopal Palace
The Episcopal Palace of Astorga was built between 1889 and 1913. It was designed in the Catalan Modernism style, and it one of the three buildings by Gaudí outside Catalonia. Gaudí received the commission to remake the original Episcopal Palace that was destroyed by a fire in the 19th century. It is designed in a neo-medieval style in harmony with its location. 
Casa Vicens
Located in the neighbourhood of Gràcia on Carrer de les Carolines, 20-26. It was the first house designed by Gaudí and one of his first Art Nouveau buildings. The style is a reflection of Neo-Mudéjar architecture. 
Sagrada Família
La Sagrada Família is Gaudí's masterpiece. He took over the project as chief architect in 1883, and radically changed the design of the church, combining his architectural and engineering styles, and combining Gothic and curvilinear Art Nouveau forms. He worked directly on the Nativity Façade to set a sort of guide for future generations. It is expected to be completed in 2026.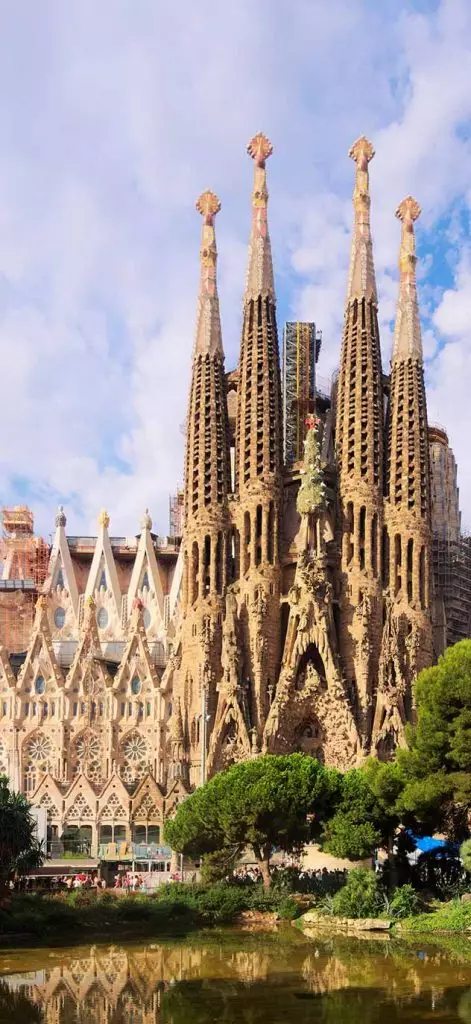 Güell Pavilions
It is a complex of buildings located in the neighborhood of Pedralbes, Barcelona. It was built between 1884 and 1887. Gaudí proposed an Orientalist design, similar to Mudejar art.
Güell Palace
It is a mansion designed by Gaudí for the industrial tycoon Eusebi Güell, it was built between 1886 and 1888. Situated on the Carrer Nou de la Rambla, in Barcelona. The main focus of the home is the main room for entertaining high society guests. It is part of the UNESCO World Heritage Site "Works of Antoni Gaudí".
Casa Botines
The Casa Botines is located in León, Spain. It was built between 1891 and 1892. It was adapted to serve as the headquarters of Caja España, a local savings bank. He designed a building with medieval air and various neo-Gothic characteristics. The building has four floors, a basement and an attic.
Bodegas Güell
It is an architectural complex that contains a winery and associated buildings located in Garraf, Barcelona. The winery has a triangular frontal profile, with practically vertical roofs, steep sloping stone slabs, finished off with several chimneys and two doors that connect to the old building. It has three floors. Currently, there is a restaurant in the complex.
Casa Calvet
It is a building designed for a textile manufacturer that functioned as a commercial property, in the basement and on the ground floor, and as a residence. It was built between 1989 and 1900. This building is the most conventional of all of his works.
Bellesguard
It is also known as Casa Figueres, it is a modern manor house that was built between 1900 and 1909. The exterior façade is neo-Gothic, as Gaudí intended to tribute to the original medieval castle that once stood there.
Park Güell
It is a public park system that has gardens, decorative and architectural elements located in Barcelona. It was built between 1900 and 1914, and was later opened as a public park in 1926. Is is the representation of the artistic plenitude of Gaudí, and belongs to his naturalist period. It is part of the UNESCO World Heritage Site under "Works of Antoni Gaudí".
Casa Batlló
It is a building located in the center of Barcelona. It is also considered one of the masterpieces designed by Gaudí. It was redesigned by him in 1904, and it is identifiable as Modernism or Art Nouveau in the widest sense. It has a visceral, skeletal organic quality.
Artigas Gardens
They are a park located in La Pobla de Lillet, Barcelona. Built between 1905 and 1906, Gaudí filled the gardens with arches and Catholic symbols.
Casa Milà
Commonly known as La Pedrera, it is a building that belongs to Gaudí's Modernist phase. It was built between 1906 and 1912, and it was the last private residence designed by Gaudí. It has an unconventional rough-hewn appearance, with undulating stone façade, and twisting wrought iron balconies. It was declared part of the UNESCO World Heritage Site under "Works of Antoni Gaudí" in 1984.
Church of Colònia Güell
It is an incomplete work by Gaudí. Built as a site of worship for the people located on the hillside in a manufacturing suburb in Santa Coloma de Cervelló, near Barcelona. The church is part of the UNESCO World Heritage Site under "Works of Antoni Gaudí".
Sagrada Família Schools
It was a small school building for the children of the workers constructing la Sagrada Família, but it was accessible to other children in the area, specially for the underprivileged class.